Prince Georges County divorce lawyer Aubrey Burton Jr., is an experienced divorce lawyer that handles all aspects of divorce in Maryland & Washington DC
Cases that are referred to attorney Burton often include complex matters including protective orders, family owned businesses and acrimonious disputes.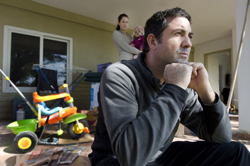 Contact Prince Georges County divorce lawyer to schedule a consultation and learn how divorce attorney Aubrey Burton, Jr. can advise and guide you through a Maryland divorce as smoothly as possible, with as favorable an outcome possible for all affected parties, particularly the client and his or her children.
For many people, divorce is an unpleasant and painful process. It is sometimes difficult to see the "silver lining" behind the clouds or to appreciate the approach of the "light at the end of the tunnel." Lawyer Aubrey Burton, Jr., understands a client's desire to get a divorce over with, and at the same time, knows how important it is to protect short-term and long-term best interests of the client in areas such as the following:
Child custody
Child visitation
Child support both during and after the divorce
Review of any existing prenuptial agreement to determine how it will affect the outcome of a divorce
Application of any existing separation agreement that preceded divorce proceedings
Equitable property division
Real estate
Vehicles
Household goods
Stocks and bonds
Debt division
Alimony
Retirement accounts (401K, pensions)
QDROs (qualified domestic relation orders)
"Divorce is about change, evolution, and a new beginning. The divorce process causes spouses to view and interact with each other in a completely new and different way. As such, amidst this change, it is necessary to have a strong, zealous, and aggressive lawyer to help the client navigate through these uncharted waters." — Aubrey Burton, Jr., Maryland divorce attorney
At The Burton Firm, the attorney-client working relationship provides the essential building blocks of a successful family law practice. Attorney Aubrey Burton, Jr., brings a wealth of knowledge, experience and zeal to the task of advising and representing clients. Call (301) 420-5540 or e-mail the law firm to schedule a consultation regarding any aspect of a Maryland divorce.